I feel like a therapist!
Inbound calls, texts, and emails from balance sheet lenders, investors, tribe/state licensed portfolio managers, lead generators, title lenders, lawyers, VC's, family offices…NON STOP!
"What should we be doing?
In a nutshell? Review your P & L. Eliminate every line item, renegotiate with critical landlords & vendors, eliminate every expense possible. Focus on collections, repos, and unnecessary costs.
PREPARE FOR THE AFTERMATH! [Hint: When we come out of this, tremendous opportunities will manifest!]
Key Themes:
 Survival: Hoard cash. "Keep your powder dry," as they say. STOP LENDING!

Focus on getting your money!

MOIP:

"Money Over the Internet Protocol." Prepare/embrace the phone!

Digitize your lending operation.
Look around you! 70% of your competition will be gone!
The business of lending to the masses has radically changed! The "good old days" are NOT returning.
One thing will not change; DEMAND by consumers for cash!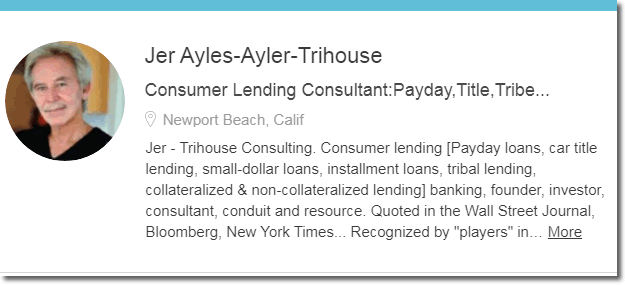 NEED HELP? Schedule a call with Jer & the Team. Click here:

Jer Ayles & Team
Now, for your pleasure and a few macro ideas, a PR Piece from CURO [a publicly traded, multi-state lender].
CURO Provides Business and Financial Update
04-08-2020
"Announces Closing of $200 Million Asset-Backed Revolving Credit Facility"
"WICHITA, Kan.–(BUSINESS WIRE)– CURO Group Holdings Corp. (NYSE: CURO) ("CURO"), a market leader in providing short-term credit to underbanked consumers, today announced its response to the COVID-19 pandemic and provided an update on other important business and financial matters. This update is not intended as a full business and financial update and the Company currently expects to report earnings for the first quarter ended March 31, 2020, in a timeframe consistent with its past practices.
Financing and Cash: The Company closed today an incremental Asset-Backed Revolving Credit Facility (the "Credit Facility") to provide financing for U.S. installment and line-of-credit receivables, including those generated under its technology, marketing and servicing relationship with Stride Bank. The Credit Facility provides for $100.0 million of initial borrowing capacity and, subject to obtaining additional commitments, the ability to expand borrowing capacity up to $200.0 million. Concurrent with the closing, the Company drew $35.2 million on the facility. The Company had $180.3 million of cash at March 31, 2020, including $41.5 million of restricted cash. On a pro forma basis, assuming the closing of the Credit Facility as of March 31, 2020, the Company had $215.5 million of cash, including $41.5 million of restricted cash.
Customer Care Program: In light of the COVID-19 pandemic, in mid-March, the Company established an enhanced Customer Care Program, which re-focused its efforts to help the Company's customers during this unprecedented time. CURO has responded to over 35,000 calls and emails from customers who report varying degrees of impact and hardship related to COVID-19. CURO's Customer Care Program enables our team members to provide relief to customers in various ways, ranging from due date changes, interest or fee forgiveness, payment waivers, or extended payment plans, depending on a customer's individual circumstances. The Company has also temporarily suspended all returned item fees.
Store Operations and Employees: The Company's 416 stores in the United States and Canada have remained open and, where applicable, have been designated as an essential service by local regulations. In an effort to keep its employees and customers safe, CURO has reduced store hours, with all stores now open Monday to Saturday from 10am to 6pm, while adhering to strict social distance guidelines throughout the store. The Company has committed to pay all of its store personnel their full-time wages through May 2, 2020, regardless of staff scheduling changes that have resulted from COVID-19. The Company also implemented an emergency leave pay plan to ensure that employees are paid when they are unable to work due to COVID-19. In light of the impact this pandemic has on the Company's front-line teammates, CURO has committed to pay a bonus to all working store teammates to provide additional relief.
Contact Center and Corporate Support Operations: Virtually all 1,100 of the Company's contact center and corporate support personnel in Wichita, Toronto and Chicago are now successfully working from home.
Underwriting and Originations: CURO has adjusted its credit underwriting models to tighten approval rates and enhance its employment and income verification practices for both the store and on-line lending platforms. CURO has seen a significant reduction in new customer applications and originations and the Company expects this trend to continue until the public health crisis abates. The Company has also recently seen an increase in delinquencies and net charge-off rates when compared to prior year periods.
In light of the uncertainties surrounding the negative business, financial and other impacts of COVID-19:
Guidance: The Company is withdrawing its full-year 2020 guidance.
Short-Term Incentive Program: On April 2, 2020, the Company's Board of Directors canceled the 2020 Short-Term Incentive Program, an annual cash bonus program covering approximately 200 corporate support managers and executives. The Company believes it is important at this time to focus its resources on support of customers and front-line personnel in its store and contact centers.
Share Repurchase Program: On March 15, 2020, the Company's Board of Directors suspended its previously-announced $25 million share repurchase program."
ABOUT CURO
"CURO Group Holdings Corp. (NYSE: CURO), operating in the U.S. and Canada and powered by its fully integrated technology platform, is a market leader by revenues in providing short-term credit to underbanked consumers. In 1997, the Company was founded in Riverside, California by three Wichita, Kansas childhood friends to meet the growing consumer need for short-term loans. Their success led to opening stores across the United States and expanding to offer online loans and financial services across two countries. Today, CURO combines its market expertise with a fully integrated technology platform, omni-channel approach and advanced credit decisioning to provide an array of short-term credit products across all mediums. CURO operates under a number of brands including Speedy Cash®, Rapid Cash®, Cash Money®, LendDirect®, Avío Credit®, Opt+®, and Revolve Finance®. With over 20 years of operating experience, CURO provides financial freedom to the underbanked."
Source: CURO Press Release