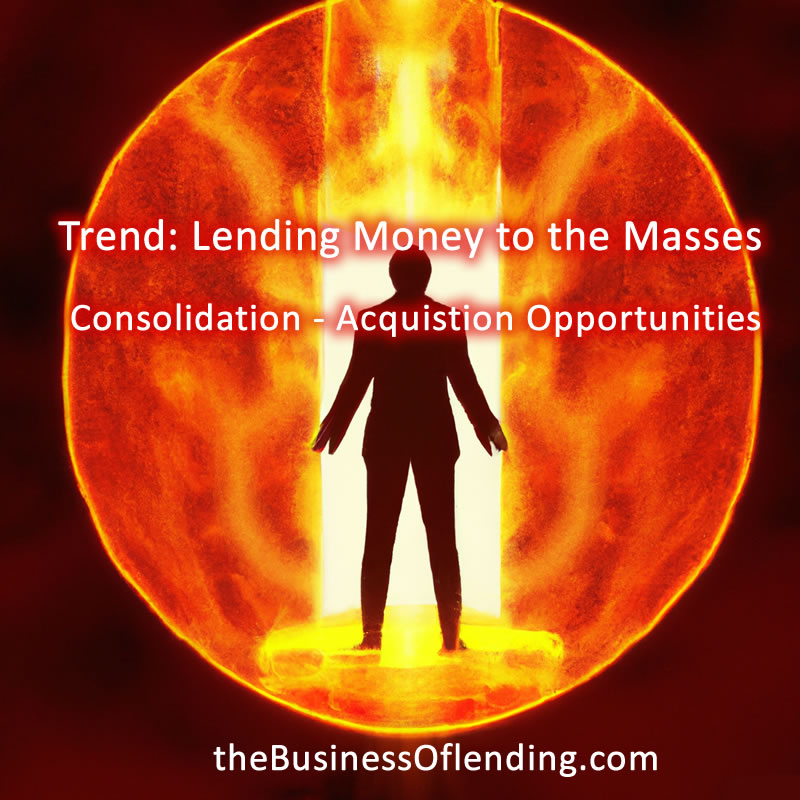 Trend:
Consolidation/Acquisition/Rollup Efficiency Opportunities
Lenders must grow their loan portfolio
Inflation is reducing discretionary income for our demographic
Loan DEMAND is up and will scale into 2023+
Loan ORIGINATION volumes are suffering. 
Loan APPROVAL rates are decreasing. 
Loan applicant "QUALITY" is deteriorating.
Near prime devolving to subprime and "reacts" are the primary source for loan originations
2023 Q1 tax refunds will reduce demand for subprime loans
One positive: Student loan forgiveness is a certainty. This will improve loan originations in late 2023+
Another positive: Employee pay increases likely will continue = increased applicant quality 
Small operators are struggling with cash flow & cost of capital issues
Online First time payment defaults are 2.5X storefront. [we're a relationship business.]
TAKEAWAY?
A unique window for Consolidation/Acquisition/Efficiency Opportunities and "rollup" opportunities exists today.
Efficient lenders should aggressively acquire competitors
Consolidate back office operations [CAC, Marketing, LMS, Underwriting, Servicing, Collections…]
IF YOU HAVE THE DESIRE TO ACQUIRE OR DISPOSE OF YOUR B2C LOAN BUSINESS, CONTACT JER AYLES: TRIHOUSECONSULTING@GMAIL.COM 
IF YOU HAVE PORTFOLIOS TO SELL, CONTACT JER AYLES.