The Future of the Small-Dollar Micro-Lending Industry
---
We define small-dollar micro-lending products as relatively small loan principals of $50 to $5000 for seven days to 48 months having APRs of 30% to 1500% or more. These products include payday loans, car title loans, installment loans, line-of-credit loans, pawn, rent-to-own and similar products not yet envisioned.
---
Sub-prime, small-dollar micro-lending products are a normal market response to demand for short-term liquidity from borrowers with jobs but little access to other sources of funds. These financially challenged consumers lack access to credit cards, banks, and credit union funding. Their friends and family cannot help because it's not only embarrassing to ask, but their peers are in similar circumstances.
---
Lenders must create a business model that:
Will survive and thrive under the current wave of competition.
Gain access to a sustainable cost of capital
Can compete with alternative loan products entering the subprime market weekly [buy-now-pay-later, early access to wages, Dave.com look-alikes, collateralized loan products…]
Can cope with new and existing regulations.
Can maintain bank relationships.
Can integrate with consumer credit-building opportunity platforms.
Anticipate consumer desires and their preferred debt vehicles
How and where consumers want to access loans
How to structure loan products
---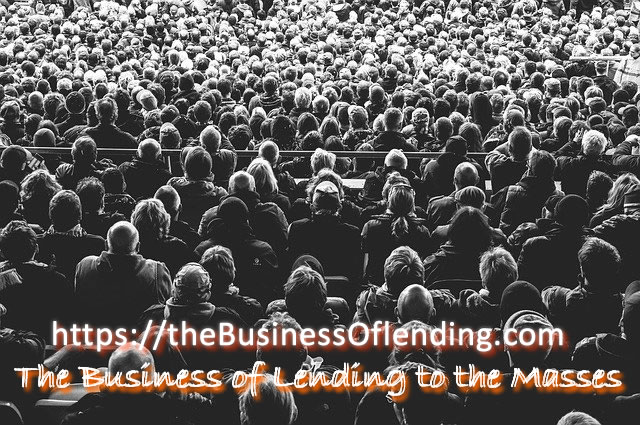 The business of lending to the masses.
Demand for subprime, micro-lending loan products continues unabated. As the middle class expands and high FICO (U.S.) consumers debase and decline into lower credit tranches, the demographic for subprime loan products will continue to scale! Study after study consistently concludes that consumers need access to quick, no-hassle, small-dollar loans to meet temporary financial emergencies.
---
Today's inflationary environment drives demand for small-dollar loans as well.
---
Defaults: Price increases this year!
gas: +49%
used cars: +35%
hotel room: +29%
airline tickets: +24%
car rentals: +23%
bacon: +18%
oranges: +18%
furniture: +17%
peanut butter: +16%
crackers: +16%
steak: +16%
suits: +15%
butter: +14%
milk: +13%
lamps: +12%
coffee: +11%
cereal: +10%
---
My point? Defaults will soon prove to be an issue for lenders. Lenders need tools that provide instant, real-time financial data about their borrowers and applicants. Reach out immediately if you do not have access to the following instant alerts via your loan management platform:
---
Your customer gets paid
Your customer receives an IRS check
Your customer closes their bank account
Your customer's bank account is negative
Your customer receives a loan from a competitor
Your customer's job situation declines
Customer payment reminders
Ping nearly 50,000 financial institutions, including Cash App, money transfer apps, crypto apps…
And much, much more…
---
Why does this matter? Inflation is rising dramatically. Defaults will soar. Demand for loan products is scaling. He who can qualify, approve and fund a loan fast will win BIG in this new environment. The tool is here today. To learn more: TrihouseConsulting@gmail.com
---
The Internet and mobile technology continue to impact the small-dollar micro-lending industry profoundly. Consumers residing in states and provinces that do not allow payday loan products to exist routinely obtain them online. Imagine a web that isn't focused around a computer but is everywhere, on every device, every person, accessible at every location. It's not a place you go; it's a layer behind everything you do.
---
The phone! Enough said! That's where the action is. EVERYONE does business on their phone today!
---
Email is less and less likely to be opened by your customer on their desktop or laptop computers. Email "opens" in mobile devices now dominate. This is huge. Micro-lenders who are slow to adapt to this revolutionary reality will experience reductions in loan portfolio size and fail to achieve velocity.
---
Regulation will continue to dominate the small-dollar micro-lending landscape for the foreseeable future. In every country small-dollar micro-lending products enter the fray, they meet resistance from competitors, including banks and credit unions, so-called consumer protectionists, credit card companies, legislators, and competing Fintech platforms. Many licensing models, including choice-of-law, sovereign nation (tribe), offshore, state-by-state, and province-by-province, continue to "muddy the waters."
---
On a local level, more than a few cities, townships, and counties are capping or restricting the number of payday loan financial service centers allowed. Brick-n-mortar operators must continually meet with and educate local politicians and city council members regarding their business and customers. Remind these politicians that our industry pays taxes, employs thousands of their constituents, contributes to the community, and pays leases and property taxes.
---
Regarding the CFPB (U.S), we have personally met with the head of the CFPB and various Asst. Directors of the CFPB. Our takeaway is that they are focused on transparency and disclosure of all fees rather than some Machiavellian legislative initiative.
---
International entry into small-dollar micro-lending continues. Payday loans, installment loans, car title loans, line=of-credit loans, etc., are offered in the U.S., Canada, the U.K., Australia, Poland, Latvia, Mexico, Latin America, South Africa, and more. Interestingly, companies with international small-dollar micro-lending success are entering the U.S. despite the perceived regulatory climate.
---
Payment Processing may be the most dynamic area today for the small-dollar loan industry today. Crypto and the lightning network are already upending our sector. Signup for our free monthly Newsletter for breaking news about vendors offering state-of-the-art platforms that eliminate chargebacks, ACH fees, and deliver instant funding for pennies.
---
Bottom line: This is the time to be a lender to the masses. Opportunity is the word of the day. For those of us willing and able to envision what new loan products and delivery systems should look like, the "world is our oyster."