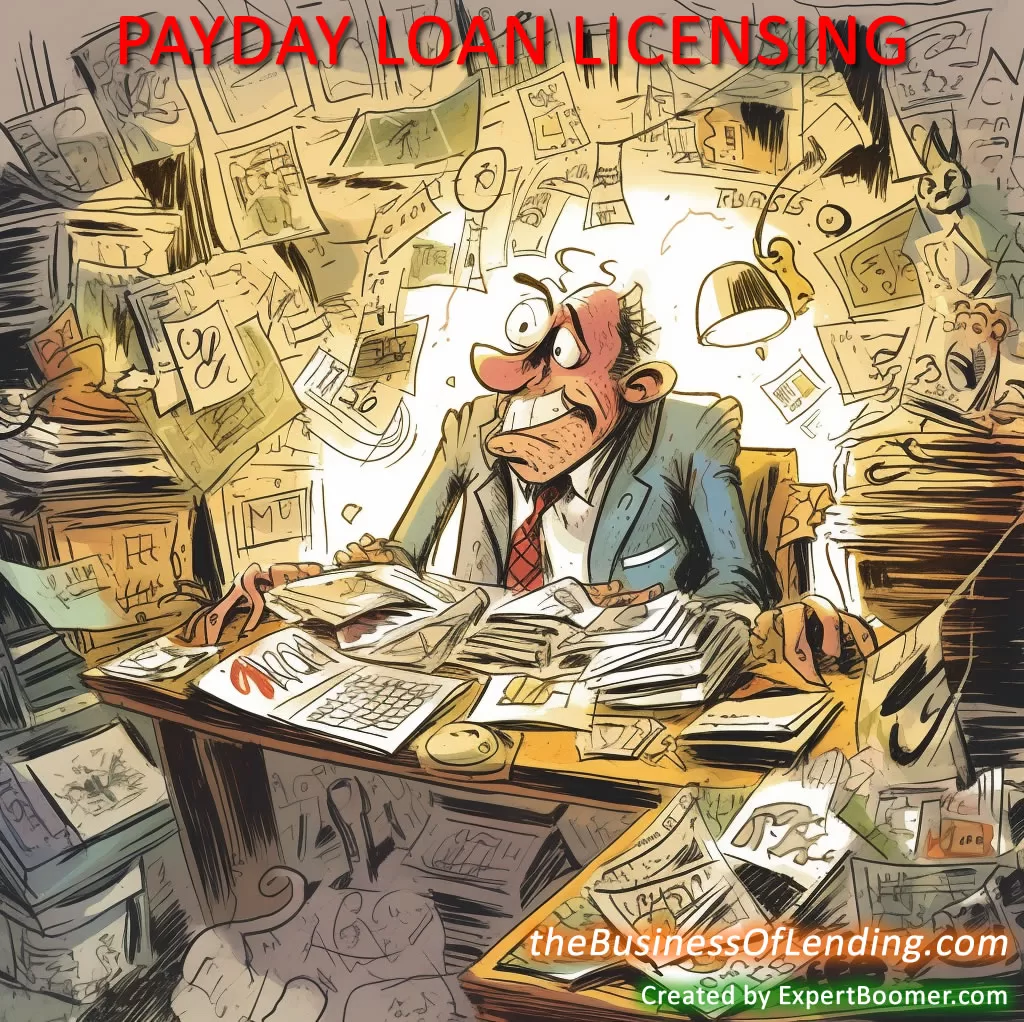 Payday Loan Licensing  
1. Introduction
– Brief Overview of Payday Loan Companies Licensing
– Importance of Licensing
2. What is a Payday Loan?
– Definition
– How Payday Loans Work
3. The Necessity of Licensing for Payday Loan Companies
– Protecting Consumers
– Regulation Compliance
– Building Trust with Customers
4. Licensing Process
– Application
– Requirements
– Evaluation
5. Federal Regulation of Payday Loans
– The Consumer Financial Protection Bureau (CFPB)
– Federal Laws and Regulations
6. State Regulation Overview
– Differences Among States
– State Licensing Agencies
7. The Cost of Licensing
– Fees
– Renewals
– Penalties for Non-Compliance
8. Maintaining a License
– Annual Reports
– Audits
– Renewal Process
9. Challenges in Obtaining a License
– Strict Requirements
– Time-Consuming
– Constant Regulatory Changes
10. Benefits of Being Licensed
– Enhanced Credibility
– Legal Protection
– Customer Trust
11. Common Licensing Mistakes to Avoid
– Incomplete Application
– Not Understanding State Laws
– Lack of Preparation for Audits
12. How to Ensure Compliance
– Regular Updates on Laws and Regulations
– Hiring Compliance Officers
– Utilizing Compliance Software
13. Conclusion
14. FAQs
Brief Overview of Payday Loan Companies Licensing
Entering the payday loan industry requires adherence to various legal and ethical standards, primarily through acquiring licenses.
This article illuminates the importance of licensing, procedures, and the intricacies involved.
NOTE: You're interested in collaborating with a Native American Indian tribe with regards to obtaining a lending license? Visit LeaningRockFinance.com
Importance of Licensing
Licensing ensures compliance with laws designed to protect both payday loan businesses and consumers while fostering trust among clients.
What is a Payday Loan?
Definition
A payday loan is a short-term, high-cost loan intended for sudden financial emergencies.
How Payday Loans Work
These loans are typically repaid on your next payday, with lenders charging fees rather than traditional interest rates. 
I cannot overly emphasize how expensive payday loans are when measured on an annual basis! 
APRs for payday loan products are similar to staying in a hotel for a year rather than renting an apartment.
Refer to my Annual Percentage Rate [APR] table below!
The Necessity of Licensing for Payday Loan Companies
Protecting Consumers
Licensing safeguards consumers from predatory practices, providing a layer of accountability and security.
Regulation Compliance
Companies must adhere to federal and state regulations, with licensing ensuring conformity to these rules.
Note: Even Native American lending entities must comply with federal regulations! [Leaning Rock Finance.]
 Building Trust with Customers
Licensed companies are more trustworthy, attracting customers who value legitimacy and transparency.
Licensing Process
Application
Initiate the process by submitting an application to relevant state and federal agencies, complete with necessary documentation and fees.
Requirements
Prospective lenders must meet stringent criteria, including demonstrating financial stability and business acumen.
Evaluation
Agencies meticulously review applications, scrutinizing applicants' credentials and business plans to ensure consumer protection.
Federal Regulation of Payday Loans
The Consumer Financial Protection Bureau (CFPB)
The CFPB oversees payday lenders, implementing regulations to prevent unfair, deceptive, or abusive acts.
Federal Laws and Regulations
Numerous laws at the federal level govern payday lenders, with licensing essential for legal operation.
State Regulation Overview
Differences Among States
Each state has distinct rules and regulations regarding payday lending, influencing the licensing process. 
Several states outright ban payday loans. This is a real shame! States that outlaw payday loans achieve nothing regarding their constituents' demand for small-dollar, short-term loans!
These states simply drive their residents to online lenders, many of whom lack licensing and transparency.
State Licensing Agencies
States have specific agencies responsible for issuing licenses and monitoring payday loan companies.
The Cost of Licensing
 Fees
Application and licensing fees vary, as do costs associated with renewals and maintaining good standing.
Renewals
Licenses must be renewed periodically, incurring additional fees.
Penalties for Non-Compliance
Non-compliant companies face hefty fines and potential loss of licensure.
Maintaining a License
Annual Reports
Licensed companies must submit annual reports detailing business operations and financial statuses.
Audits
Prepare for regular audits designed to verify compliance with state and federal regulations.
Renewal Process
Understand and adhere to renewal protocols to maintain active licensure.
Challenges in Obtaining a License
Strict Requirements
The stringent criteria for licensing can pose significant hurdles for aspiring payday loan companies.
Time-Consuming
The application and review process is extensive and time-consuming.
Constant Regulatory Changes
Stay abreast of continually evolving regulations to ensure compliance and prevent licensing issues.
Benefits of Being Licensed
Enhanced Credibility
Licensing boosts your company's credibility and appeals to consumers seeking reliable lending services.
Legal Protection
Operating with a license provides legal protection and supports smooth business functionality.
Customer Trust
Clients are more likely to trust and engage with licensed companies, fostering loyalty and repeat business.
Common Licensing Mistakes to Avoid
Incomplete Application
Ensure your application is comprehensive and accurate to avoid delays or denials.
Not Understanding State Laws
Familiarize yourself with state-specific regulations to ensure full compliance and prevent legal complications.
 Lack of Preparation for Audits
Implement robust internal controls and documentation practices to facilitate seamless audit processes.
How to Ensure Compliance
Regular Updates on Laws and Regulations
Stay informed about legal changes and adjust your practices accordingly to maintain compliance.
Hiring Compliance Officers
Dedicated or fractional compliance officers can help navigate regulatory landscapes, ensuring your company adheres to all legal requirements.
Utilizing Compliance Software
Invest in technology designed to simplify compliance, reducing the risk of human error and facilitating adherence to complex regulations.
Hint! It's all about your Loan Management Software [LMS] Contact me for recommendations: Jer@theBusinessOfLending.com 
Conclusion
Understanding and navigating the licensing process is vital for payday loan companies.
Ensuring compliance with both state and federal regulations not only protects your business but also builds trust with consumers, ultimately contributing to your company's success and longevity in the competitive payday loan market.
FAQs
1. Why is licensing crucial for payday loan companies?
– Licensing is mandatory for legal operation, consumer protection, and building trust with clients.
2. What challenges might I face in obtaining a license?
– Applicants often grapple with strict requirements, a time-consuming process, and constant regulatory changes.
3. How can my company maintain compliance?
– Stay updated on laws, hire compliance officers, and utilize compliance software.
4. What are the consequences of non-compliance?
– Companies risk fines, penalties, and loss of licensure for failing to comply with regulations.
5. Can the licensing process vary by state?
– Yes, each state has unique rules and regulations regarding payday lending and licensing.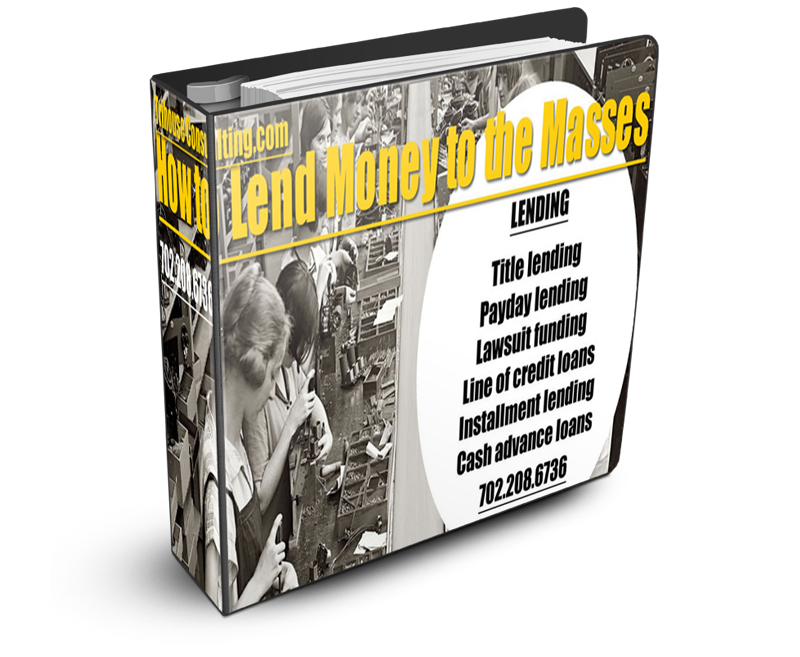 Click the link to order our newly updated Course: "How to Loan Money to the Masses!"