A Lending Club Study reveals:
28%: Share of consumers earning more than $200,000 who live paycheck to paycheck

59%: Share of paycheck-to-paycheck consumers with issues paying their monthly bills that noted significant rises in prices for utilities in the past 12 months

48%: Share of consumers living paycheck to paycheck with issues paying bills who pay for health insurance
"Being a money lender is like being a genie, except instead of three wishes, I give people the power to buy things they don't need with money they don't have." TheBusinessOflending.com
45% of individuals earning more than $100,000 per year lived paycheck to paycheck.
56% of USA consumers don't have access to $400 when faced with a sudden emergency!
Demand for credit continues unabated! [Other than housing because potential home sellers don't want to give up their <3% mortgage interest rates!]
"As a money lender, I get to say the two words every person wants to hear: 'approved' and 'money' (and maybe 'free pizza')." PaydayLoanUniversity.com
The Study also highlights that individuals in the lower range of the upper-income bracket are particularly at risk of facing paycheck-to-paycheck living. A staggering 54% of consumers earning between $100,000 and $150,000 annually, more than double the median personal income in the U.S., are living paycheck to paycheck. This figure represents a 7 percentage-point increase from July 2022.
The Study's results indicate that many Americans struggle to make ends meet despite high salaries. Several factors, such as rising inflation, increasing living costs, mounting debt, and a lack of financial planning, contribute to this.
The post-COVID-19 pandemic era has significantly impacted people's finances, causing them to shift their spending and savings habits. Many consumers strongly desire to break free from the feeling of being confined during the pandemic, both physically and financially.
Access to small-dollar loans is crucial for millions of households across the country.
For many families, unexpected expenses or emergencies can quickly derail their finances, leaving them with few options.
Traditional banks and lending institutions often require lengthy application processes, high credit scores, and collateral, making it difficult or even impossible for those needing the money they require.
On the other hand, small-dollar loans offer a viable alternative for those struggling to make ends meet.
With easy and accessible application processes, lower credit score requirements, and more flexible repayment terms, small-dollar loans provide a lifeline for households needing financial assistance.
We can help millions of families manage unexpected expenses and navigate challenging times by providing access to small-dollar loans.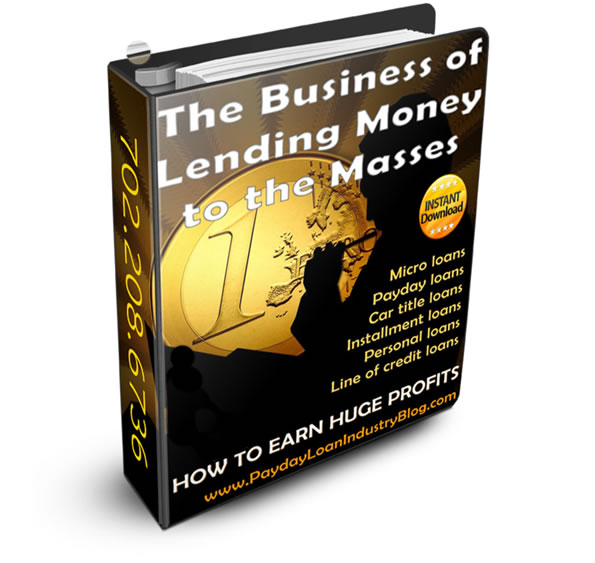 Here it is! Our newly updated 500+ page Manual. We thoroughly explain step-by-step how to start & operate a profitable consumer loan business. 
If you doubt our "Bottom Line," here's a link to a Study and commentary by Ballard Spahr about the impact of the passage of a 36% APR cap in Illinois: Click to Access